There are no planned track works on the London Waterloo to Reading railway line this Sunday – but there might be extra trains due to the England vs Wales rugby international at Twickenham.
This means that anyone travelling to Bracknell Ale & Wine Festival from out side the town should find it easiest to get to us via the railway network, particularly as our friends and sponsors at Courtney Buses will have a shuttle bus running from the adjacent bus station to the site.
Full information on shuttle bus times and fare's is available on our dedicated page here.
We've produced two maps to help you identify the bus station and the best route to the rugby club.
Finding the bus station – (Search Bracknell station on map apps):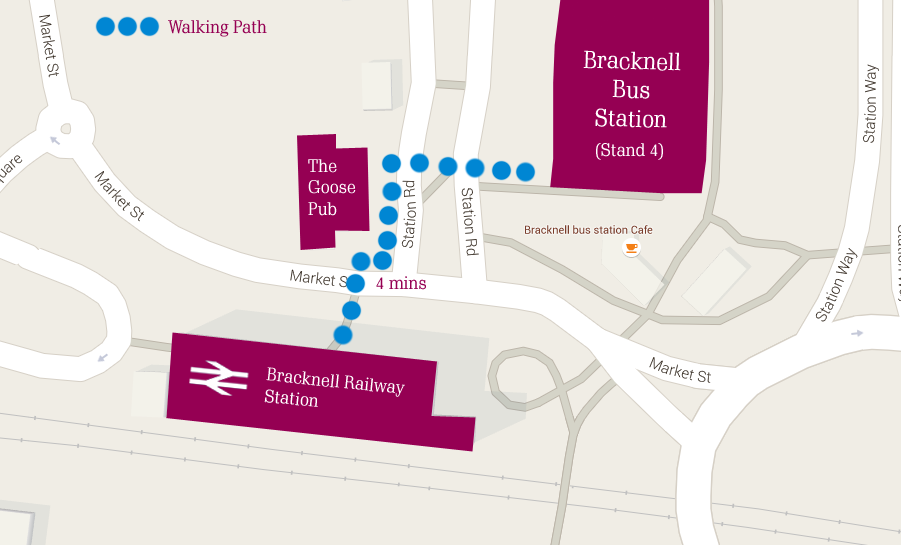 And here's the pick up/set down bus stop on London Road A329 – the route shown takes you through a well lit underpass which will be signposted on the day.
Limited parking on site
There is very limited parking on the festival site. We would urge visitors to either arrange drop off, use the Courtney Bus service from the Town Centre Bus station or walk down. Please do not park in roads around the festival site.
More information about the new location here, and details on how to find the rugby club here.